Even though Fredericksburg has a population of only 11,000 people, it has no shortage of lovely locations to stay for a while; to make your planning a little easier, we've compiled a list of our favorite places to stay in Fredericksburg.
Fredericksburg, a quaint German hamlet in the heart of Central Texas with accommodations as gorgeous as its streets, is home to sweeping wildflower fields and ancient businesses.
On this list, you'll find something for everyone, whether you're seeking classic Texas charm or a quirky cottage that pays homage to the town's European roots.
Continue reading to find out which Fredericksburg lodgings will make your visit memorable.
Is this a one-of-a-kind excursion for the two of you? Check out our recommendations for romantic cabins in Fredericksburg, which are ideal vacation rentals for any couple looking for a romantic trip.
Where to stay in Fredericksburg?
When it comes to finding a place to stay in Fredericksburg, there are a lot of alternatives, so we're here to help you narrow down your choices.
In each category, we've selected our top holiday rentals. The variety of types represented in these three options alone demonstrates how unique Fredericksburg accommodations can be, so embrace the town's rich roots and settle in!
Best Hotel in Fredericksburg
There are two pools. Breakfast is provided for free. An outdoor patio with a fireplace and a jacuzzi. Is there anything else we can say? If you want to enjoy a small-town vacation in elegance, the Fredericksburg Inn & Suites has everything you could wish.
Even though it feels like your own little hideaway, this location is only two blocks from Main Street's dining and shopping. As a result, there is enough to do in the immediate vicinity.
That means you'll have easy access and plenty of room to spread out in one bright, sleek package. For your stay in Fredericksburg, this property is a terrific bargain.
Best Cottage in Fredericksburg
Creek Street Cottage is a charming cottage with all of the necessities for a peaceful vacation.
The spacious living area includes a wood fireplace where you may relax while sipping a glass of Texan wine. A fully equipped kitchen, which is also open to the living/dining room, provides everything two people need, including an electric range/oven, huge refrigerator, dishwasher, microwave, and coffeemaker.
Aside from that, this house has two bicycles for anyone who wants to explore this unique town.
Oh, and if you're planning a trip to Fredericksburg with your pet, there's some good news: this cottage welcomes them!
Best B & B in Fredericksburg
Hoffman Haus is a cozy, charming place to stay with plenty of personal touches, only steps from Main Street's hustle and bustle.
With pastel walls and wooden furnishings, the rooms are decorated in a lovely rustic minimalist style.
It's easy to feel like you've journeyed back in time to a Southern homestead when you wake up in white cotton sheets and head to a front porch rocking rocker for your morning coffee.
But don't be concerned about feeling isolated. One of the advantages of residing in a small town is that any attraction is never far away.
Even though this bed and breakfast feel like it's on the other side of the earth, you can walk downtown in just 12 minutes.
 Unique Places to stay in Fredericksburg
For the independent tourist, there are VRBO/vacation rentals, B&Bs for those seeking a truly local experience, and hotels for those seeking old-fashioned comfort.
However, given Fredericksburg's unique history, we advise you to explore the town's strange and beautiful accommodations.
While many of our selections allow you to do just that, we did include a few standbys for those who prefer a more conventional stay.
Best Inn in Fredericksburg for Comfort Lovers
Fairfield Inn & Suites
The beautiful part about staying at Fairfield Inn & Suites is knowing you'll receive your money's worth.
The rooms are large, with desk space if you need to work while traveling, and the utilities are in good working order.
This is an excellent choice for a typical, comfortable accommodation that eliminates any uncertainty about your stay in Fredericksburg. Your stay will be made easier by a complimentary continental breakfast, an indoor pool, and helpful staff.
However, because it is 1.7 miles from the town center, where most of the tourism takes place, this is not the most walkable site.
In addition, there are numerous more hotels in Fredericksburg that offer comparable features at substantially lesser prices.
Best Inn in Fredericksburg for Couples
Peach Tree Inn & Suites
This inn boasts comfy beds, flat-screen TVs, free Wi-Fi and parking, and even BBQ facilities for those who wish to appeal to their American cravings, thanks to its romantic and light decor and meticulous attention to detail.
Nonetheless, the major strip shopping and eateries are easily accessible by foot.
This is a top choice for wine lovers looking for a place to stay in Fredericksburg. Because the location is densely forested, there are numerous good wine tasting rooms within walking distance.
Not only that, but the walk to Main Street is only 0.3 miles, which is ideal for visitors, especially if they are traveling during one of Texas' scorching summers.
Best Hotel in Fredericksburg for Families
Fredericksburg Inn & Suites
This inn is one of the greatest locations to stay in in Fredericksburg if you want a comfortable hotel with a lot of extra conveniences.
The bright, modern rooms have plenty of space to spread yourself in, and your stay includes a complimentary breakfast, but the Fredericksburg Inn & Suites' major lure is the outdoor area.
There are two outdoor swimming pools, a jacuzzi, and a beautiful stone gazebo decorated in full Texas style–complete with a fireplace and TV–on the grounds.
That's why we chose this as our top selection for a family-friendly hotel in Fredericksburg; there's much to do on-site.
You may also wander on Main Street and some of the region's best-renowned wineries; four are within a mile away!
Rustic Cabin with a Hot Tub in Fredericksburg
We don't know where to begin with this cottage in Fredericksburg because it has so many unique and lovely features.
It is ideal for a honeymoon or a romantic getaway because it provides a superb natural experience.
This cabin is located in Texas Wine Country, just a short distance from some of the best wineries in the state.
The property is spotless, tastefully decorated, and surrounded by nature—there is plenty of deer in this remote region.
What's even better?
The amazing hot tub on the back deck, right outside your bedroom!
Do you want to spend some time in the state with your special someone? Then have a look at our list of romantic cottages or these beautiful Texas treehouse rentals!
Best B&B in Fredericksburg for Families
Rarumpelpunzeldornaschenwittchen
As the name suggests, this bed & breakfast is dedicated to Fredericksburg's German roots.
As soon as the children set foot on the grounds, they will feel as if they have stepped into a fairy tale.
Each charming cottage offers two bedrooms, a living room, and a kitchenette with a dining nook where you may start your day with a full German breakfast.
On the grounds, you can stroll through lush gardens, relax by the fire pit with a glass of newly purchased local wine, or hunt for your prince by the frog pond.
There are 15 local wineries within three miles of the property, and Luckenbach, a country music mecca, is only two and a half miles away.
The B&B even provides complimentary bicycles to visitors, providing a cost-effective and enjoyable way to explore the neighborhood.
Best B&B in Fredericksburg for Couples
 Agape Cottage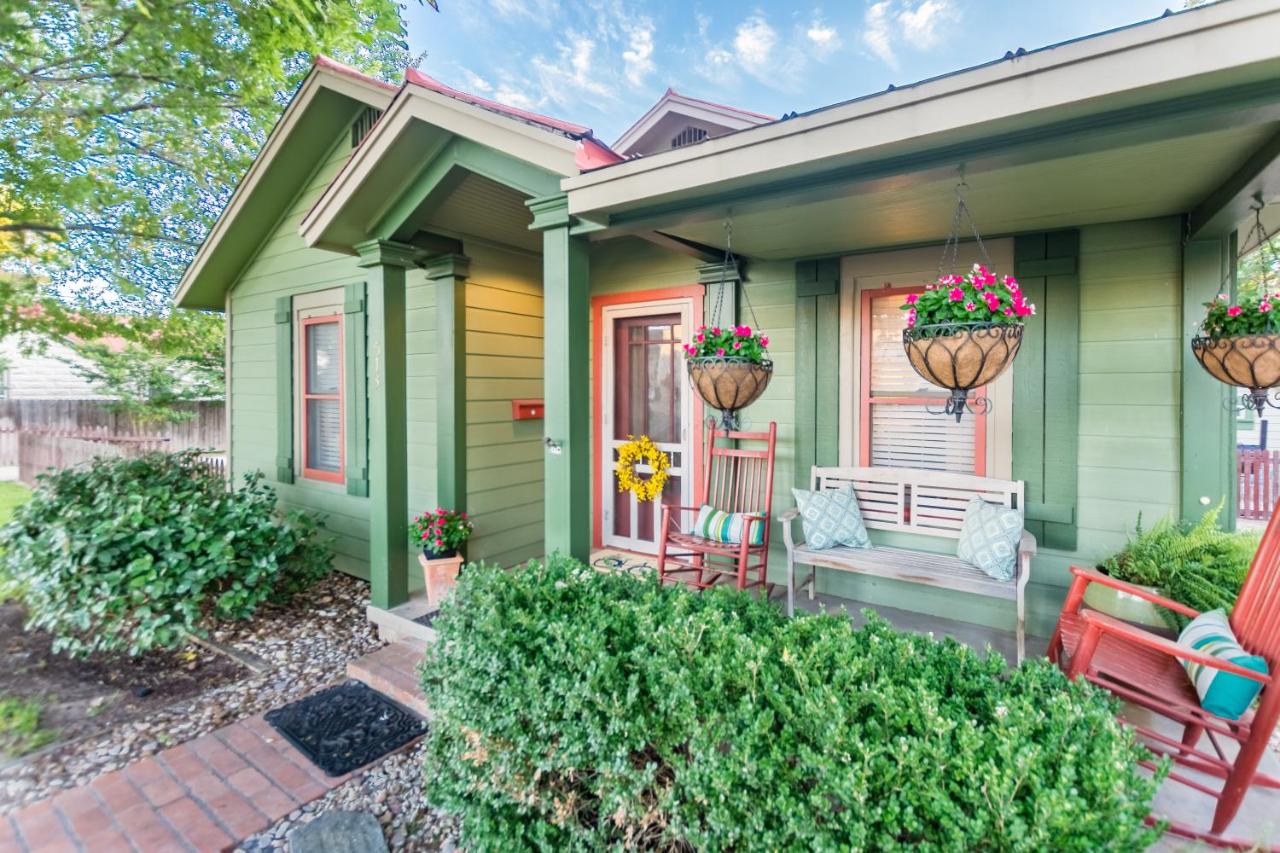 With its baby blue design and limited yet warm living area, this utterly lovely house will make you feel right at home.
It's the ideal setting for two people. For those you caffeine addicts, Agape has a kitchenette with a microwave, refrigerator, and coffee maker.
Guests can also take advantage of a lovely outside patio with a barbeque pit in case they want to cook a meal for themselves and their loved ones.
Agape Cottage, like most of the other houses on this list, is a short walk from downtown Fredericksburg, so you won't have to worry about getting about.
The complimentary drinks and snacks in the fridge, as highlighted in numerous customer evaluations, are perhaps the greatest part!