The parks in San Antonio hold some of the city's best characteristics, from stunning blooming roses to refreshing natural spring swimming pools, and shouldn't be missed on your next visit.
Botanical gardens, historical buildings, hiking trails, and more are on our list of the best and most unusual things to do in the city.
 These San Antonio parks are ideal for unwinding after a long day. Spending a day in one of the city's many parks will allow you to slow down and take in a different aspect of the tourist attraction.
 Continue reading to find out more about what to see and do in each of these 16 beautiful parks!
Best Parks In San Antonio
Have you ever returned home from a trip feeling even more stressed than when you left? A holiday can quickly become stressful if the itinerary is jam-packed with scheduled activities and crowded sights.
While many tourists overlook parks when planning their sightseeing excursions, they are a terrific opportunity to get some rest while still being active.
San Antonio, in particular, is a great place to go for outdoor activities, with several beautiful parks snuggled in among the city's cultural, historical, and entertainment attractions.
Here are some of our favorite parks that you should visit!
Brackenridge Park
Brackenridge Park dubbed the "Oasis in the City," is 343-acre fishing, golfing, and picnicking paradise located only minutes from downtown.
The land has a rich history, with human activity dating back more than 12,000 years. This is high-demand real estate.
Since its founding in 1899, Brackenridge has been a popular destination for both locals and visitors.
Along the park's walkways, visitors will be greeted by towering trees and tranquil riverbanks, as well as playgrounds, museums, a miniature train, a Japanese tea garden, and the state's oldest municipal golf course.
The park is open from 5 a.m. to 11 p.m. every day.
Friedrich Wilderness Park
Friedrich Wilderness Park has a few walks near San Antonio that offer amazing views and difficult terrain. There are 10 miles of paved and unpaved routes to choose from, offering great value for money.
There is no shortage of natural beauty, from rocky climbs to deep gorges, lovely forests to wide vistas.
The area is also well-known for birdwatching, as it is home to several rare and endangered species that can be seen with a keen eye.
The park is a designated natural area because it has so much native flora and fauna. As a result, when the trails become muddy, some will be closed to avoid erosion. Before you travel, make sure to check the weather.
San Antonio Missions National Historic Park
Texas has 16 national parks, but this is the state's only UNESCO World Heritage site (and it's also a national park!).
Of course, this means it's more than just a park; it's a dedicated historical landmark and one of the city's most popular tourist attractions.
Since the park is so huge, it's recommended to plan on spending a whole day or at least a half-day there to ensure you see everything.
While the Alamo is a separate destination, the architectural marvels of Missions Concepción, San José, San Juan, and Espada are all worth seeing.
An 8-mile hike and bike track connect them all, with lots of opportunities to eat, climb trees, and refill water along the way.
Eisenhower Park
Eisenhower Park, located just 20 to 30 minutes outside of town, showcases some of the loveliest landscapes in the Texas Hill Country.
There are 6 kilometers of hiking routes in the natural area, both paved and unpaved, with a variety of difficulties to suit any traveler.
Explore dried creek beds, gaze down canyons, and (if you make it to the summit) take in panoramic vistas of San Antonio below.
There are also playgrounds for children, picnic tables, and grilling amenities.
The park is open from sunrise to dusk every day.
Woodlawn Lake Park
This park, which is more than a century old, has long been a San Antonio institution and is still one of the city's most popular public areas.
Woodlawn features important events such as the city's official Fourth of July celebration and the yearly Fiesta Earth Day, but it also organizes a variety of activities daily.
Check out their dance classes, work up a sweat on the tennis court, cool off in the pool, or relax on the boat deck casting a line. The park's 1.5-mile walking route, which has eight interactive fitness stations, is another popular attraction.
There's something for everyone, and it's a terrific opportunity to feel like you're a part of the community, if only for a few hours.
McAllister Park
This tranquil park serves as the best place for outdoor pursuits.
There are a variety of natural and paved hiking, biking, and running routes available, as well as interactive fitness stations, picnic areas, and soccer fields.
McAllister even has one of the greatest gated dog parks in the city, so your four-legged companions may join in the action.
On the quieter paths, wildlife encounters are abundant, so keep a watch out for native animals like deer and armadillos.
The park is open from 5 a.m. to 11 p.m. every day.
Hemisfair Park
Hemisfair Park, located in the middle of downtown, is much more than a green space.
It's chock-full of larger-than-life entertainment for all ages, as well as some of the city's most iconic sites!
You'll find a dizzying array of climbing structures, gigantic slides, human-sized chess and checkers, a splash zone, and so much more in Yanaguana Garden.
As if that weren't enough, Hemisfair also functions as an art gallery, with interactive exhibits and Instagram-worthy paintings strewn over the grounds.
The Tower of the Americas, San Antonio's tallest building and a must-see attraction for the city's panoramic views below, is still housed in the space that was formerly utilized for the World Fair.
Pearsall Park
Pearsall is the place to go if you're bored with the standard park activities like hiking, playgrounds, and picnic spaces.
This spot boasts an 18-hole disc golf course, water features, and the city's largest skatepark, so there are plenty of unusual activities to explore!
Pearsall ups the ante with a Fitness Challenge Zone, equipped with a zipline, traveling rings, and one of the country's only 40-yard sprint clocks, for those looking to get their adrenaline pounding.
It's the only public park in San Antonio with 5K and 10K running paths that don't cross any city streets, making it ideal for joggers. 
Perhaps most importantly, Pearsall was designed with sustainability in mind! Many of the buildings are made out of recycled products, and the park makes every effort to conserve water and energy.
Denman Estate Park
Denman Estate Park, just 15 minutes from downtown San Antonio, is a beautiful hideaway that feels a world away from the bustle and tourist traps.
A short walking track through the woods provides a peaceful respite from the city's bustle and appears to be plucked from the pages of a fairy tale.
The park's most distinctive feature is an ornate, colorful Korean monument that sits on the pond's edge. It was made in Gwangju, then it was assembled in San Antonio by the same craftsmen.
Overall, Denman is a great spot to unwind and recharge, with plenty of opportunities for picnicking if you want to make an afternoon of it.
Every day from 7 a.m. until 9 p.m., the park is open.
San Pedro Springs Park
San Pedro Springs Park is rich in thousands of years of history as if the beautiful natural surroundings and crystal-clear waters weren't enough to bring tourists.
This region is one of the most important in the Southwest, having hosted Native Americans, European settlers, and a variety of other groups throughout the years.
It's the second-oldest park in the country and the oldest in Texas. It is still a cool haven for locals and travelers who want to get away from the heat of San Antonio.
Greenspace, gardens, playgrounds, and plenty of shade-giving bald cypress trees surround the pools.
Cathedral Rock Park
Cathedral Rock Park is a natural playground for hikers, with limestone scrambles and nooks and crannies.
The topography features rugged hills, shaded woods, and peaceful waterways, allowing visitors to see a variety of Central Texas environments.
It's a terrific area for families, with kid-friendly and dog-friendly routes, so the whole family can enjoy it!
It's also only a 20-minute drive from San Antonio's downtown area. Every day from 5 a.m. until 11 p.m., the park is open.
Comanche Lookout Park
Leave the concrete to other San Antonio parks. With pure nature, deep trees, and plenty of history, this site makes the most of the surroundings.
Nearly 5 miles of paved and unpaved paths, as well as a variety of fitness stations, are available to explore.
You can also see native Texas flora such as towering live oaks and delicate mountain laurel blossoms.
With a lookout tower that mimics the remnants of a medieval castle, the region was likely previously used as a vantage point by Native Americans and continues to serve a similar purpose now.
Every day from 5 a.m. to 11 p.m., Comanche Lookout is open.
Travis Park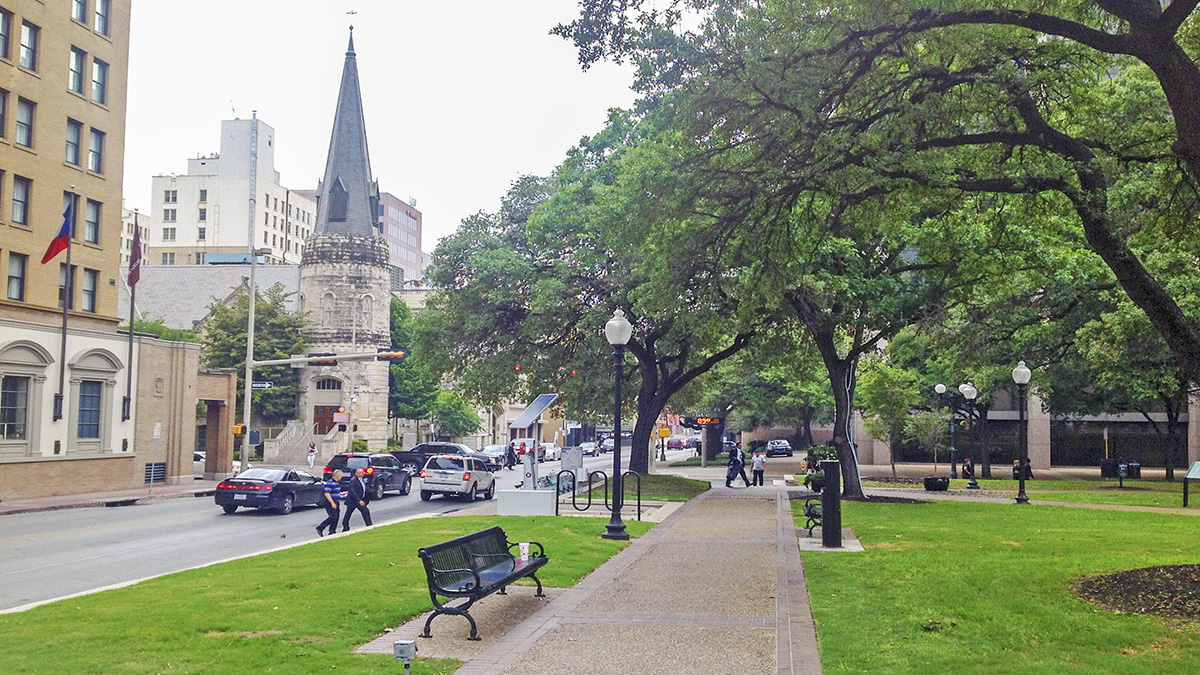 This modest but powerful park is smaller than many in San Antonio, but it has the advantage of being right in the heart of the city.
Travis Park, which opened in 1870, has undergone various renovations since then. Picnic tables, patio seating, and historic items such as an original cannon are now available.
In the park, they routinely host movie nights, festivals, and other events. On sunny days, it is packed with people sprawled across the grass and sellers lining the nearby streets.
It's a terrific spot to relax while still taking in some San Antonio culture, such as food truck TexMex and the city's energy.
Phil Hardberger Park
With 7.5 miles of trails open for cycling and hiking, Phil Hardberger Park offers some of the best trekking in San Antonio. They even connect to another park's trail system, allowing you to add another 14.5 miles to your workout if you prefer a longer run.
Throughout the year, you can attend free Fitness in the Park courses, such as yoga and interval training, or bring your dog to the dog park. On the educational front, the park offers a variety of outdoor learning activities that educate visitors about the local flora and animals.
There's also a natural play area where you may climb trees, create a tee-pee, and otherwise interact with the natural world.
Concepcion Park
Concepcion Park, located just south of downtown and near one of the city's five major Spanish colonial missions, allows visitors to explore the sights while also working up a sweat.
After learning about Texas history, visit the park's sports complex, which includes a covered basketball court, a public swimming pool, and many multi-purpose fields.
The longer Mission Trail, a hike and bike trail that winds through all of the city's missions, can be joined from there.
San Antonio Botanical Garden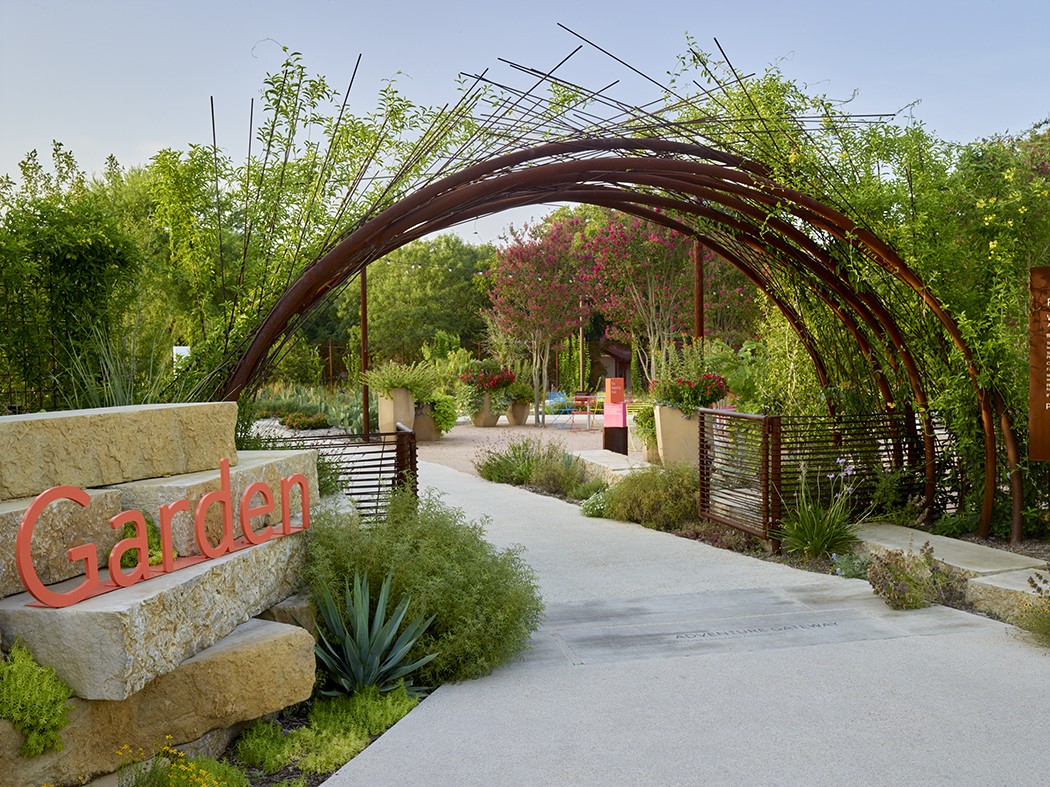 This is one of San Antonio's most popular parks, attracting both locals and visitors all year. There are numerous activities to choose from, all of which revolve around natural plants.
Hike the Texas Native Trail to see over 250 plant species native to the area, as well as historic sites like log cabins and adobe dwellings.
Then, for some classic beauty, visit the rose garden, or get hands-on in the Culinary Garden by picking your fresh ingredients for a particular recipe.
Needless to say, this is one of San Antonio's top parks for families!
The cost of admission to the park is $15 for adults and $12 for children aged 3 to 13.
Guadalupe River State Park
The Guadalupe River takes center stage at this state park. This park is known for being a great spot to float and swim in the river, but it offers much more than that.
Over 13 miles of hiking and bike paths are also available in the park. There is fishing, bird viewing, picnics, and camping available.
There are 85 power and electric hookup campsites as well as 9 walk-in tent sites available in the campground.
Don't worry if you forget your fishing or camping equipment. The public can hire both fishing and camping equipment.