Texas health authorities announced 1,144 new COVID-19 cases on Thursday, along with 15 new COVID-19 cases in nursing homes and assisted living facilities across the state.
These institutions averaged six new cases per day in June, a monthly record low since tracking began in July 2020.
This is one of several numbers that have been dropping around the state this summer.
President Joe Biden revealed earlier this month that 300 million vaccination injections had been delivered in the 150 days since he entered office.
So far, 24,845,850 COVID-19 vaccines have been delivered in Texas; 13,881,187 Texans have gotten at least one COVID-19 vaccine dosage, and 11,937,756 people are completely vaccinated.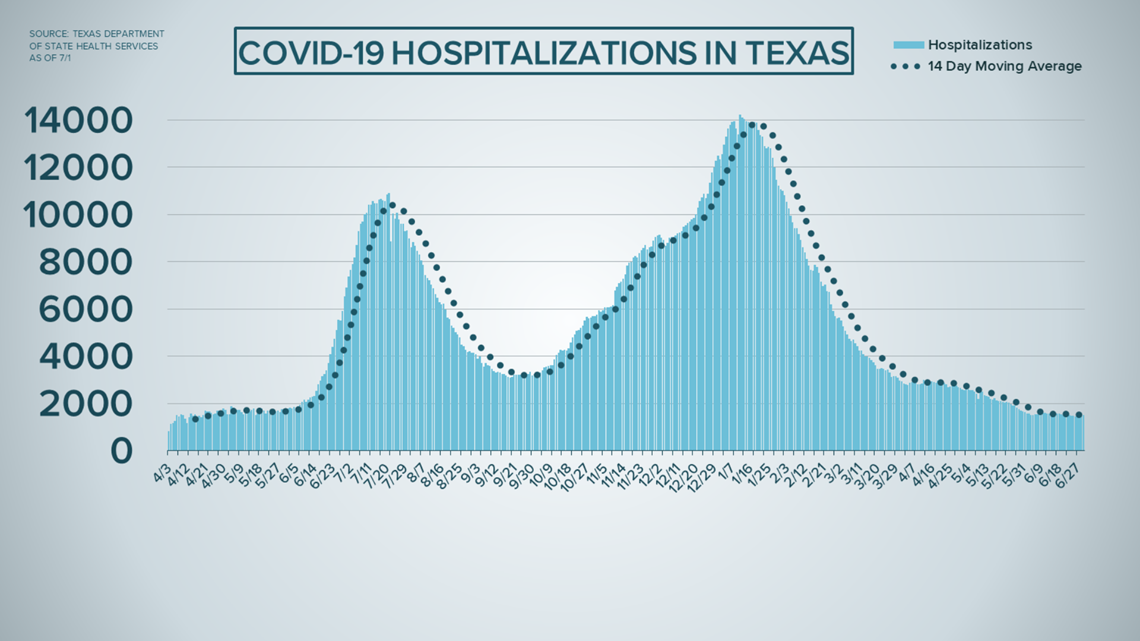 Cases of COVID-19
Thursday marks the 44th day in a row that Texas has had less than 2,000 daily cases. Since March 3, the state has had less than 5,000 reported cases every day. Since then, the number of instances has begun to level down.
COVID-19 Hospitalizations
According to state health officials, there were 1,502 COVID-19 hospitalizations in Texas as of Wednesday, marking the 37th day in a row that this figure has been less than 2,000.
The record-high number of hospitalizations occurred on January 11, when 14,218 people were admitted to Texas hospitals.
Currently, the state has a 14-day average of 1,501 hospitalizations.
COVID-19 fatalities
COVID-19 fatalities in Texas have been gradually declining since late January, according to data compiled by the Texas Department of State Health Services.
State officials say that a COVID-19 fatality occurs when a medical certifier, generally a doctor with intimate knowledge of the patient, certifies COVID-19 directly caused the death.
The prevalence of COVID-19 positive
According to the Texas Department of State Health Services, the state's 7-day average COVID-19 antigen test positive rate was 3.88 percent as of Wednesday.
Nonetheless, COVID-19 fatalities are usually delayed. As a result, the recent increase in COVID-19 fatalities may not be an accurate representation of the current situation.
The positivity rate of a county considers both the number of positive COVID-19 findings and the number of individuals tested. The 7-day average eliminates the influence of outliers on the results.